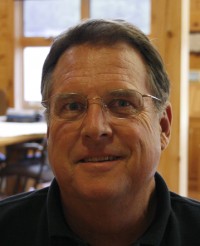 Bruce Bourhill

Vice President Emeritus
Bruce is the VSF original. Hired specifically to open our new factory in Vermont, he came to us from Sears in 1977. For over 30 years Bruce has been faithful in his commitment to sustaining our reputation as a quality employer and keeping us number one in the eyes of our customers.
In July, 1978 after training in our New Jersey factory for one year, Bruce moved his family to Vermont. He worked with the building contractor for two months as construction was completed. Then he got busy recruiting and training a talented work force from a large group of eager job applicants.
Through the years as our General Manager and Vice President of Sales and Marketing Bruce's responsibilities and accomplishments have been numerous and beneficial to the continued growth of VSF. Thirty-three later, Bruce has decided to improve his golf game as he enjoys the fruits of his 401k. He will continue his association with VSF as he remains on-call to share whatever knowledge and experience he has accumulated during his amazing career.
So, it is not farewell to Bruce Bourhill but simply this written expression of gratitude for all he has brought to Vermont Store Fixture Corporation since 1977. Our success would never have been realized without him. We wish him well on the links.