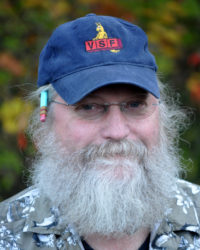 Jim Lincoln

Product Development Supervisor
Jim joined our company in 1986 after fifteen years in the furniture manufacturing industry. His experience as well as his mechanical skills and creativity immediately added value to VSF. He works hard and loves to put in the long hours that are at times necessary to bring a product to fruition. Jim applies old world skills as he works with a wide range of materials, from hardwoods and steel to the latest plastics and composites. He also enjoys the opportunity to install his creations so as to witness the smiles of satisfaction from VSF's clients.
Jim Lincoln is also an avid reader and he has used the advice of many famous Americans to help him navigate through his life. Some of his favorite quotations are:
"Nearly all men can stand adversity, but if you want to test a man's character, give him power."     A. Lincoln
"Education is the ability to listen to almost anything without losing your temper."                      R. Frost
"How few there are who have courage enough to own their faults or resolution enough to mend them"                                                                                                                                               B. Franklin
"Experience is hard to acquire with a closed mind."                                                                        J. Lincoln
Jim and his wife Bonnie always enjoy the company of their many friends but they really love to spend time with their grandchildren.